There was a major distraction in my life this past year.  My handsome son was married in September 2018!  My dining room became wedding central.  Two tables were full of centerpieces and every kind of wedding paraphernalia.  The wedding was beautiful!  Anyone who has planned a wedding knows that after the big day it takes a few weeks to recover.  Well, I took a few months.  Now I can get back to my agenda of training for the AT!
Last summer, before the big day, I took a couple of hiking trips to Kinzua Sky Walk, Kiasutha Recreation Area and Allegany State Park – among many other day hikes locally.
Click here for information on Kinzua Bridge State Park and the Sky Walk.
Kinzua Sky Walk is an old railroad bridge that was knocked down by a tornado.  They bolstered the remaining trestle and made a really, really cool walk way out of it.  I highly recommend walking the trail to view the bridge from below!  There is also a brand new education building with extremely interesting history of the bridge, the tornado and how the sky walk was built.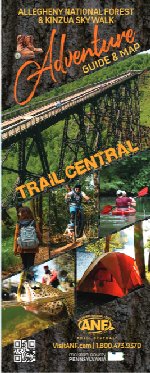 Kiasutha Recreation Area was about 40 minutes from the Sky Walk but worth the ride.  I had the most peaceful campsite with a beautiful view (Tent site number 12) right next to the lake and just a minute walk to the sandy beach.  I highly recommend it!  It was a peaceful and beautiful place to camp out overnight.
Last year I also camped out at Allegany State Park.  I rented a cabin though because the campground was closed.  The cabin did not have heat or electricity.  I wasn't there for the cabin though!
I've been to this park over a hundred times and I was able to see five new things that I never saw before!
Bear Caves, Thunder Rocks, Stone Tower, Quaker Lake, and Science Lake.
The park has a program called Allegany 18.  It is a challenge to hike all 18 original trails of Allegany State Park.  It totals about 70 miles.
Mo
st trails average 5 miles or so.  You pay $20.00 for your packet which includes separate maps of each trail and a neon pencil.  As you walk each trail you come across yellow markers with the trail number, which you etch onto your map for proof you actually hiked the trail.  After hiking all 18 trails you can claim your neat water bottle and sticker!
Currently I've only hiked one trail, but I plan to complete them all by August.
My thru hike is only a year away now, so it's time to get to business.  I hope to be writing about my challenges and adventures more often.  I'll be headed back to the gym (!!!!) to get some muscle built.  Gyms are intimidating to me, so send positive thoughts that I get my big girl panties on and just DO IT!
My faithful hiking partner is never far away, although sometimes she fades into the shadows.